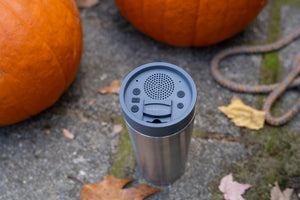 From Bonfires to Costume Parties: Why A Bluetooth Speaker Cup Lid is a Must-Have for Fall Activities
As the leaves begin to change color and the air becomes crisp, it's time to begin beckoning the coming of fall. From pumpkin patches to bonfires lasting throughout the night, there is a wide array of fun-filled activities for you to smile like a jack-o'lantern for.
What better way to make sure you're ready for anything than to pack up your favorite Yeti or Stanley tumbler, fill it with hot apple cider, cocoa, or hot toddy, and use your Narwhal bluetooth speaker lid to bring any autumn adventure to the next level. Let's explore some fantastic fall caucasians where you can bring your bluetooth speaker lid along and make this a season to remember. 
Pumpkin Patch: A Playlist Among the Pumpkins
Heading to the pumpkin patch is a cherished autumn tradition. Whether you're searching for the perfect pumpkin to carve or simply indulging in pumpkin-flavored treats, Narwhal's Bluetooth Speaker Lid can set the mood for any hay-ride, cider sipping, or pumpkin picking adventure. 
Fall/Holiday Decorating Party: Jam Out While You Craft
When you are ready to deck your home out in all of the best harvest or halloween decorations, turn your craft corner into a jam session. With the Narwhal Bluetooth speaker lid on your favorite cup, you can sip and paint while the sound of your favorite tunes fill the room. 
Bonfires: S'More Sweet Tunes, Please
Gather around the bonfire for a night of friendship, storytelling, and marshmallow roasting. Enhance the ambience of your evening with a Stanley or Yeti Speaker lid by Narwhal perched upon your chair. Keep everyone entertained and feel the warm glow of the fire and the satisfaction of creating the perfect vibe for your endeavors under the equinox. 
Costume Party: It Was A Graveyard Smash!
Halloween parties are a monster mash-up of mischief, mayhem and memories - but they wouldn't be complete without the perfect playlist for ghoulish delights. Bring your Bluetooth Yeti or Stanley speaker cup lid and surprise party-goers with a boo-tiful party mood that even a banshee wouldn't scream about. Your drink stays comfortably covered, consistently hot or cold, and the party stays lively - even for the undead. 
Football Party: Game Day Cheers
Football season is in full swing during the fall. Make your football parties as unforgettable as the game-winning touchdown with the convenience of a tumbler cup with a bluetooth speaker lid. Snack, cheer, and sing your heart out at halftime with the comfort that your cold beer is just as crisp as the first-downed sip of the night. 
The Narwhal Bluetooth cup speaker lid is the perfect companion for all of your fall activities. Transform your events and experiences into memories you'll cherish forever, build a playlist worthy of reminiscing, and don't miss the opportunities to let good times roll with the convenience of your favorite beverage and music by your side. Shop Narwhal Bluetooth speaker cup lids or pick up some swag for your next autumn outing in our shop. 
---