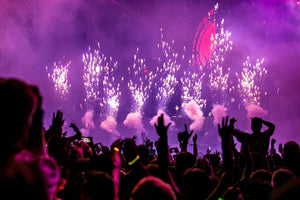 The Music Festival Essentials That You Need To Bring This Festival Season
Music festival season is upon us. The anticipation of a long-awaited summer experience of outdoor fun, music, and people is finally here. Your outfits have been prepared for weeks, you set up the group chat with ease, your snack game is even top-tier - what could possibly be missing?
It's happened to all of us. The dreaded "I can't believe I forgot that at home" moment.
Glancing at your phone and seeing the nearly-dead battery. Having a severe lack of music or entertainment between sets. Blisters from those new shoes. Even experienced festival-goers can benefit from a quick reminder of the things to bring on a trip.
Don't Worry! Narwhal has you covered this music festival season so that you never miss a beat. Before you hit the road, make sure you've got everything you need to bring the party with you with our list of festival camping essentials.
Being prepared > Anything Else
With large crowds, harsh weather, and all the fun you're to have along the way, don't let anything catch you off guard.
Stay Hydrated -

The #1 rule of any event is to make sure you're drinking enough water. Sweating, drinking alcohol, and dancing can take its toll in 80-100 degree weather.

Invest in an insulated

reusable water bottle

to keep drinks cool even hours after filling.*Tip: Fill your Stanley or Yeti Tumbler with fruit beforehand for a refreshing twist that will keep you sipping.Venues often have filling stations to keep you healthy and safe.

First Aid Kit -

Keep your kit nearby in case you can't get professional help right away. Store it in your pack or at your camp for easy access. Items like sunblock, aloe vera, OTC painkillers like tylenol, and gloves should be added.

Sunglasses, Sunscreen and Chapstick -

Most music festivals take place outdoors through the months of May- August. Even with the sun high in the sky, you can protect yourself from burns and eye strain with polarized sunglasses, sweat and water resistant sunscreen, and soothing chapstick for your fanny pack or cross-body.

External Charger + Cord -

Stay in communication, take all the photos you can and keep your stories updated with the peace of mind that you never see "10% battery remaining" while filming the perfect POV. External chargers are usually small and can easily fit in a small bag or pocket and can even be solar powered.

Get that bag... and keep it close -

Keeping your cash and cards close to you is always a good idea. Many fests have ATM's available, but may have you carry your items in a clear bag to help security quickly see what you are carrying for faster entry and enhanced protection for everyone. Fanny Packs and Cross-body bags are usually more common.

A flag or rage stick -

Stand out from the crowd with ease with a flag or other attention-grabbing decoration located at camp or on your person. It's the easiest way to find your people if separated, or get a better sense of direction.
Let's Talk Camp
Home sweet home can be anywhere you make it when you've got the right stuff.
Be the party between sets - One of the best gifts for music lovers and an integral part of any camp is a portable bluetooth speaker. Times between sets can be up to an hour long, and an outdoor portable bluetooth speaker will keep you entertained.
Our 20 or 30 oz NARWHAL Speaker Lid fits on over 40+ tumbler sizes, has amazing sound quality, and keeps your beverage and beats in one convenient location. Our bluetooth speaker tumbler lid provides great sounding music in the palm of your hand with convenient controls making this an easy add to any music festival camping checklist.
When you really want to impress your friends, sync any two NARWHAL Speaker Lids together to immerse yourself in stereo sound. You can even make or take phone calls or change your playlist through the built-in microphone. Who knew a tumbler lid could be so fun? 
Chairs + Outdoor Blanket -

With time between sets lasting between 30-60 minutes, you need somewhere to kick back. Some festivals have regulations on whether you can bring chairs in the venue, so be sure to check first. Most allow

outdoor blankets

which can lead to some great photo, nap, or sunbathing opportunities.

Layerable clothes and extra pairs of shoes -

Athletic shoes and sandals, gloves, bandanas, hoodies, and a rain jacket will ensure you're prepared for anything and will be a refreshing change after a hot day of festivities.

Tent, Tarp, & Air Mattress -

Don't be a victim of the weather or a sore back in the morning. Enjoy a cushy air mattress inside a roomy tent or sleeping bag. Better yet, lay out a tarp inside your tent to prevent water from collecting beneath you and create a barrier between you and the cold/wet ground.  Don't forget an

air mattress repair kit

in case of any rips or punctures along the way.

Non-Perishable Food/Snacks -

Food and drink at festivals are usually found at booths or food trucks. Based on demand, these spots can have long winding lines and astronomical prices. Don't spend all of your merch money just for a quick bite!

Keep some

granola/protein bars, trail mix, crackers, or dried fruit

around for something quick and easy. If you do get a meal, consider bringing your own

reusable silverware

to prevent an endless hunt or more camp clutter.

Toilet Paper -

Do your business comfortably and ensure you don't get stranded with this festival checklist staple.
Don't Stress. This is Your Moment!
Take this music festival packing list with you on the go this summer. Do what keeps you connected to what matters while you're trying to disconnect from what doesn't. 
---