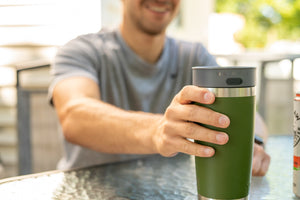 Made in Texas: A Symphony of Style, Sips, & Sounds
Howdy, fellow Texans and lovers of all things Texas-made! Today, we would like to bring you on an educational tour through the heart and soul of our home, The Lone Star State.
Together, we'll explore the world of Texas apparel, sip on local whiskey and tantalizing tequilas, and experience the lively music scene that defines our great state.
Texas has produced many of the greats in the country music scene- artists like George Straight, Willie Nelson, Kenny Rogers, Miranda Lambert, Pat Green and The Josh Abbott Band all have Texas roots.
So, grab your favorite Yeti tumbler and get ready to discover the perfect blend of shopping, whiskey, and music that make these Texas brands  truly special
Dress for the Part: Embracing Texan Style
When it comes to showcasing Texas pride through fashion, there are so many brands that capture the spirit of our beautiful state.
Texas fashion blends Western heritage, Southern charm, and eclectic influences, from classic cowboy boots to modern bohemian flair. Texas-made clothing is designed to be rugged and refined.  Showcasing a fusion of traditional Western wear, relaxed Southern aesthetics, and modern spins on classic silhouettes. Quality craftsmanship and attention to detail make supporting small business easier than ever.
Whether you're seeking a new pair of boots or looking to update your wardrobe with a modern take on the classics, these brands offer a true taste of Texas fashion:
Lucchese - Cowboy boots made in Texas since 1883, crafted with next-level attention to detail using only the finest quality materials around. Blending old-fashioned Western aesthetics and modern design, these boots are a beloved choice for TX boot enthusiasts, rodeo performers, and fashion-forward individuals.
Howler Brothers (related only by a mutual love for life) - A popular outdoor clothing inspired by classic surf culture, traditional Texas western wear, world cultures, food, and music. Their unique and stylish collections, bright details, and fun easy-going aesthetic captures the spirit of people who love being outdoors.
Criquet - Based in Austin, lovingly described by them as "the land of cold beer, live music, and tacos" , Criquet is a clothing brand that creates vintage-inspired golf shirts, polos, button-downs, and sweaters. Their collection captures the timeless style of the past, evoking the golden era of golf and traditional sportswear.
Toasting to Texas Craftsmanship:
Texas has emerged as a force to be reckoned with in the realm of spirits, particularly when it comes to whiskey. With well-established Texas distilleries and exciting up-and-coming ventures, Texas' whiskey and tequila scene offers flavors for everyone's tastes.
One brand that is making waves on the spirit scene is Family Business Beer Co. by Jensen Ackles. This brewpub was founded by the eponymous Texan actor and whiskey enthusiast best known for his role as Dean Winchester in the popular show "Supernatural". Located just outside Austin, FBBC provides a range of beers, ales, lagers, session IPAs, and barrel-aged stouts.
Or delight in Texas-made brand Epic Western, skillfully crafted using 100% Blue Agave Blanco Tequila sourced from a renowned family of tequileros in Jalisco, Mexico.
Another favorite of lounging locals is La Pulga Spirits - specializing in 100% Additive-Free Blue Weber Agave Premium Tequila, Mezcal, and Sotol.
Raise a glass to the craftsmanship found in every sip of Texas whiskey and tequila neat, a testament to the spirit of our great state.
Raising the Heartbeat of Texas with Narwhal
Home, Home on the Stage - from Country and Rock to EDM and Folk, texas made music is the soul-stirring essence of Texas. The state's music scene is as diverse as it is captivating, with the Austin, TX music scene standing out as a vibrant hub.
Known as the Live Music Capital of the World, Austin offers countless venues and festivals that showcase the best of local Texas-made talent. And what better way to enhance your musical experience than with the innovative NARWHAL Bluetooth speaker lids?
These stylish and practical lids seamlessly integrate with your Yeti drinkware, delivering high-quality sound while keeping your beverage ice-cold.
Did you know that Yeti was actually founded right here in Texas? Established in Austin in 2006, Yeti quickly gained popularity for amazing quality and temperature control. Texans proudly embraced Yeti drinkware as a brand and symbol of outdoor adventures and everyday use, solidifying its status as a true Texas-made success story.
Our Home is your Home
That's right! On a scorching summer day in Fort Worth, Texas, we wasted no time in bringing our innovative bluetooth speaker design to life. With the support of our loved ones, we transformed into a dynamic husband and wife entrepreneurial team, proudly launching our debut product in November 2020.
Designed for the on-the-go music lover, NARWHAL Bluetooth speaker lids fit 6 types of Yeti Tumblers and mugs are perfect for outdoor adventures, backyard gatherings, or simply relaxing with your favorite tunes.
Elevate your musical moments and Learn more about NARWHAL here.
Find Your Texan Spirit
Embrace our rich heritage, support small Texas brands, and let the harmonious symphony of apparel, spirits, and music carry you to new heights.
To discover more about NARWHAL Bluetooth speaker lids and elevate your musical experience, Visit Our Shop and experience the perfect blend of Texas sound and style.
Cheers to the Texan soul!
---