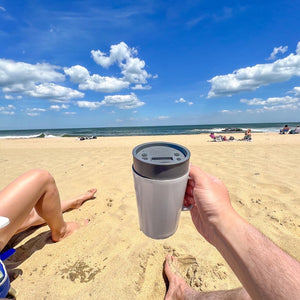 Packing List for Beach Vacation
There's nothing quite like a gentle ocean breeze. A beach vacation is a great way to unwind and enjoy some fun in the sun, whether you prefer to relax on the beach or you're up for a fun-filled adventure. From surfing to snorkeling, there are endless ways to enjoy yourself. However, sometimes deciding what to pack for the beach can be daunting, especially if you haven't planned out all of your activities yet. In this guide, we'll review all the most important things to bring along.
Beach Essentials
First, let's start with the basics. These are the beach essentials that will prepare you for a day of soaking up the sun and enjoying the waves. Any or all has a place on a packing list for a beach vacation.
Portable Speaker:

Tunes at the beach are a must, as is water, soda or your favorite beverage to help with staying hydrated under the sun. Take care of both items at once by filling your favorite vessel with your favorite beverage and topping it with the

Narwhal Speaker Lid

of your choice.

Sunscreen:

Protect your skin from harmful UV rays with a broad-spectrum sunscreen of at least 30 SPF (don't forget to apply every 2 hours, or after swimming and eating).

Beach Towels:

You'll need at least one large beach towel per person. 

Swimsuits:

Remember to bring at least two so you can alternate, leaving you with a dry one that's always readily available. 

Beach Bag:

A sturdy (and spacious!) bag will make it easy to carry all your essentials. Remember to look for one with multiple pockets to keep you organized.

Water-resistant phone case:

This is crucial for protecting your phone from sand and water.

Hat and Sunglasses:

Protect your eyes from the sun with a hat or a pair of sunglasses—or both!

Beach umbrella:

A beach umbrella will provide shade and a cool spot to relax during the hottest parts of the day. 
Beach Necessities: Snacks
After spending a few hours on the beach, you'll have quite an appetite. Putting snacks and drinks on your list of beach necessities will keep you fueled up and hydrated throughout the day.
Water:

Freeze a few bottles overnight and pack them in your cooler. This will not only ensure you have cool, refreshing water to drink, but it will also keep everything else in the cooler chilled as well.

Fruits and vegetables:

Baby carrots, apple slices, grapes, or carrot sticks are great snacks to have on hand when you're feeling a little munchy.

Energy bars:

Protein bars and granola bars are great snacks packed full of nutrients for a quick snack on the go.
Beach Entertainment
Maybe you need a little break or maybe grandma and grandpa can't quite get around like they used to. Just because you're on the beach doesn't mean there aren't other ways to entertain yourself! 
Books:

Bring your favorite books to catch up on while you relax.

Bluetooth speaker:

With a

Narwhal portable Bluetooth speaker

, you can listen to music or your favorite podcasts.

Snorkeling gear:

If you plan on snorkeling, you can bring your own or rent it from a local shop.

Beach games:

Pack a beach volleyball, a frisbee, or a bocce ball set if you enjoy a bit of activity at the beach.
Safety and First Aid
Safety first! It's always better to be safe than sorry. No list of beach essentials is complete without a few first aid and safety items—they can make all the difference in the case of an emergency. 
Life jackets:

If you plan on swimming in the ocean, you should include one life jacket for each member of the group.

First aid kit:

Pack a first aid kit so you can take care of small cuts and bruises with band-aids, antiseptic wipes, and pain relievers.

Aloe vera:

In the event of a sunburn, aloe vera is a great remedy to soothe your skin while it heals.

Bug spray:

Bug spray can keep insects and other nuisances at bay, so you can enjoy your fun in the sun.
Figuring out what to pack for the beach doesn't have to be stressful! Whether you're traveling with friends or family (or going solo), it's important to plan for the weather, pack for your favorite activities, and for personal comfort and safety. By incorporating these beach essentials into your beach day packing list, you can enjoy a smart (and stress-free) vacation and get the most out of your time at the beach. 
---