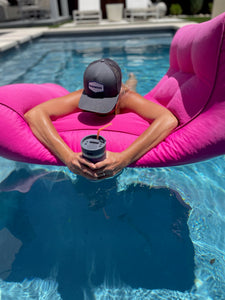 Pool Accessories: Dive Into Summer
During the dark, cold days of winter, nothing sounds more appealing than a day spent at the pool. Long, lazy days with nothing better to do than enjoy cool water under the hot sun is the stuff summer dreams are made of. But you can't just show up with a ratty beach towel and an expired bottle of SPF and expect to live your best pool life. To truly get the most from your pool day, you're going to need some cool pool accessories. Luckily we're here to help with some suggestions for poolside accessories that let you dive into summer.
Cool Pool Accessories for Hot Summer Days
Portable Bluetooth Speaker: We're just going to get this one out of the way right up front. You didn't think we'd compile a list of the best pool accessories without including our Narwhal speaker lids, did you? If ever there was an accessory perfectly designed for a pool day, it would have to be our 20oz and 30oz bluetooth speaker lids. After all, you're not going to head to the pool without your trusty Yeti, Stanley or whatever your chosen brand of tumbler might be—hydration is key to being able to spend long hours at the pool. You're also going to want music to spice up your pool time, and with our water-resistant speaker lid, you can hydrate, play your favorite pool tunes and not have to worry about keeping track of a separate speaker you may leave behind.
Floaties: Among fun pool accessories, floaties rank at the top of the list. Whether your preference is a unicorn or giraffe—or you're a purist who enjoys an inflatable lounger—there's a floaty out there to suit every swimmer. Find one with cupholders and you can bring your beverage and your bluetooth speaker into the middle of the pool and be the life of the pool party. And if you're wondering whether there's a narwhal pool floaty out there, we're happy to report that a variety of unicorn-of-the-sea floaties are just a Google search away. We know because we checked.
Pool Games: When we imagine pool days, most of us don't think about lap-swimming. Instead we picture splashing around and having a good time. And while dunking each other and cannonballing are tried-and-true pool-day activities, there are swimming pool accessories you can bring that will encourage friendly competition that doesn't involve holding your friends and loved ones underwater. A floating basketball hoop or volleyball net can be a good way to have a great time. Even better, because water is an athletic equalizer of sorts, you don't have to be the tallest swimmer in the pool to slam dunk on the swimming pool court.
Find Your Niche: No matter what kind of pool day you're after, there are pool accessories to meet your specific needs. Want a more refined outing? Invest in a floating drink holder, complete with an inflatable wine bucket. Like to swim after dark? Glow-in-the dark and light-up pool accessories are for you. Don't want to get your hair wet and would rather spend your day on the pool deck? There are a host of poolside accessories such as plush towels, portable umbrellas, water-resistant e-readers and comfy loungers that make staying on dry land exceedingly attractive. 
No matter what kind of day at the pool you're seeking, you'll need the right pool accessories for your outing. When you pack up your pool noodles, snacks, games and loungers, don't forget your Narwhal bluetooth speaker. It's not fun in the sun without it.
---