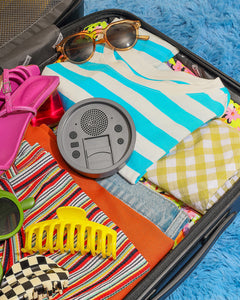 What to Bring for the Greatest Glamping Experience
Some crave time in nature, away from the rush and noise of daily life, but want to spend their days running through the woods and their nights in perfect comfort. Whatever you're craving in your next glamping experience, let's make it happen. 
You may not know you want these, but you do
There are some things you don't realize the novelty of until you're nestled in the woods, far from civilization. Adding these creature comforts to your next trip will elevate your camping trip  into a true glamping experience:
Portable Bluetooth Speaker:

 No glamping experience is complete without your favorite music. If ever there was an accessory perfectly designed for a high-class camping experience, it would have to be our

20oz

and

30oz

bluetooth speaker lids.

A comfortable mattress: The air mattress crammed into a box in your closet will not do. Look for a mattress with a high R value to keep you warm while you sleep and a soft-touch sleeping surface, which offers a nice tooth for keeping your sheets in place. (Yes, sheets are a must for glamping.) 
A portable hot shower: Preferably a portable shower that is paired with a robe, Turkish towels and your favorite body wash for spa vibes.
Linens: In addition to sheets and towels, bring a washable throw blanket (or two) that can serve as a warm wrap in the chilly evening air, a table cloth, shower curtain, or a picnic blanket.
A welcome mat: It doesn't need to say "Welcome" on it, but it should keep the dirt outside.
A portable music player: Ideally it will be one small enough to fit on your camping mug.
Dealer's choice gourmet experience
What's on your dream menu? For some, cooking over the campfire is a must. For others, a campstove is the simpler answer. There are no rules about whether glamping means drinking a cold beer, eating steak and potatoes at the table with real plates—or lying on a picnic blanket sipping wine and eating skinned grapes from a compostable bowl. It's yours to decide. If you crave something easy but flavorful, we recommend freeze-dried meals accompanied by a portable pack of spices. If you choose campfire cooking, we recommend banana boats: halved bananas stuffed with marshmallows and chocolate and then wrapped in tinfoil. 
Your glamping aesthetic
For many, the most fun part about glamping is designing and creating the campsite of your dreams. It's a chance to shop for luxury camping supplies like hammocks and fairy lights, and bring out colorful rugs and throw pillows from the linen closet. There are no wrong answers here. If glamping decorations are not for you, swell! If they are, this is your ticket to create the paradise of your choosing.
Activities and lack thereof
The best part about glamping is you're not on a schedule. Sleep in, make the perfect pour-over coffee and listen to the birds. Or harness that burst of energy to explore nature, then play lawn games into the evening. Bring all the glamping supplies for things you'd love to do and see how it goes! Have a plan for if it rains, even if that plan is to stay in the tent all day and listen to music or your favorite audiobook while playing cards. 
Covering your aspirations
No matter how many games you bring, no matter how comfy your air mattress is, if you're not prepared for the great outdoors, you're gonna have a bad time. To make sure everything you need is on hand, put together a separate bag full of camping essentials:
Towels
Bug repellant
Sunscreen
Bear spray
First aid kit
Medicine
Water bottle
Flashlight
Multi-tool
Saw or ax
Duct tape
Hand warmers
Air mattress repair 
Other traditional camping supplies that will help in a pinch
Having all the essential camping equipment in one place means most bad times can be resolved in a few minutes and everyone can get back to enjoying their time away. Another thing that makes problems disappear is to keep all your food and garbage locked up and out of reach of animals—they're not as friendly as they are fluffy.
If you're cozy and loving nature, you are glamping just right. Don't forget to stay safe out there and have a great glamp!
---