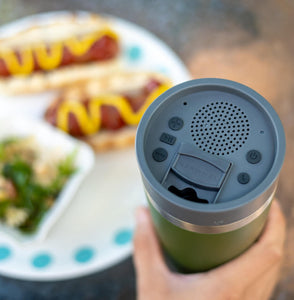 What To Bring Tailgating
What isn't there to love about tailgating? Whether you're looking to take a trip, get the gang together to cheer on your favorite team, or enjoy an outdoor BBQ, tailgating is a great way to get together and have a change of scenery at the same time. Tailgating can be as simple or complex as you'd like, but either way, prep ahead of time so you don't find yourself missing that essential item once you've arrived at your destination! We've assembled an essential checklist to prepare you for minimal stress and maximum fun.
Tailgate Checklist
Depending on the type of tailgate you're embarking on, there can be a range of necessities to ensure smooth sailing. Don't forget the entertainment! Narwhal Bluetooth Speakers are a great way to save space and blast your favorite party tunes. Basic tailgating gear includes:
Camp chairs

Folding table or picnic blanket

Ice 

Duct tape

Flashlight

Jumper cables

First aid kit

Blanket

Rain gear

Sunblock

Cooler

Plates

Utensils

Cups

Napkins

Snacks

Water

Bottle opener

Tupperware

Canopy 

Trash bag

Wet wipes
If you're planning a tailgate BBQ, you'll want to include: 
Grill
Tongs and other grill tools
Fuel (propane or charcoal)
Lighter fluid
Lighter
Oven mitt or pot holders
Skewers
Cutting Board
Knife
Foil
Looking for some games and entertainment for the crew? Don't forget
Narwhal Bluetooth Speakers—bring two to pair for stereo sound!
Playing Cards
Football
Frisbee
Tailgating Games
What food should I bring to a tailgate?
One of the most important elements of a successful tailgate is your cooler. Whether you're planning to potluck or grill your food on site, efficient cooler packing will help you maximize space and minimize warm air, ensuring your food arrives fresh and your drinks stay ice cold. To pack your cooler the right way, ensure it is freshly cleaned before layering cans and bottles across the bottom. Spread a nice thick layer of ice over your drinks before overlaying food in well-sealed Tupperware or ziplock bags. If you have warm food and no way to heat it on site, it's a good idea to invest in an insulated food carrier alongside your cooler. Keep those hot foods hot and those cold foods cold! 
Don't forget to finish your prep work before heading out! 
Tailgating BBQ crowd pleasers include:
Classic skewers: your favorite protein combined with a few vegetables for roasting
Campfire nachos
Beers, sodas and water
Mac and cheese
Fish tacos
Snacks 
Corn on the cob
Hot dogs and buns
Condiments 
Last but not least, if you're tailgating a sporting event, don't forget your tickets for the game! Make sure to check your list a final time before you head out and your tailgate is guaranteed to be a blast.
---